Our breakfast table is always incomplete without cheese toast or butter toast. We get both these products from milk and commonly consumed in almost every household. But can you say which one is better? Do you know which one is healthier? In this post, we can help you to find out the difference between cheese and butter.
The yummy butter and cheese make pizzas, burgers, and fries so irresistible. The texture and taste only make them different. These dairy products vary in vitamin, protein, calcium, and calories.
Butter And Cheese – Advantages Of Consuming Cheese
Cheese is not only different from butter from the aspect of flavor and taste, but it also has great nutritional differences. Some benefits of having a bit of cheese every day are as follows:
Consuming cheese in limited quantities every day can make your skin supple and glowing. However, butter helps in exfoliating the dead skin.
The fat portion is comparatively lesser as compared to butter. It is a healthy option for people suffering from obesity and heart problems.
Eating cheese helps in reducing the risk of osteoporosis owing to its high calcium content. Butter ensures healthy muscles.
Cheese is challenging to digest. Hence, some people prefer butter over it.
A hundred grams of cheese contains around 366 kilocalories. On the other hand, a similar amount of butter contains 717 kilocalories.
How Do We Get Cheese?
Cheese is processed from the milk curd after separating from the whey. Moreover, a specific enzyme helps in curding of milk. It is known as rennin. Apart from this, lactic bacteria is also vital for culturing. This milk curd is processed further in the cube form. About 38 degrees Celsius of heat is given for 45 minutes. The size of the cubes shrinks down and the become highly acidic in nature.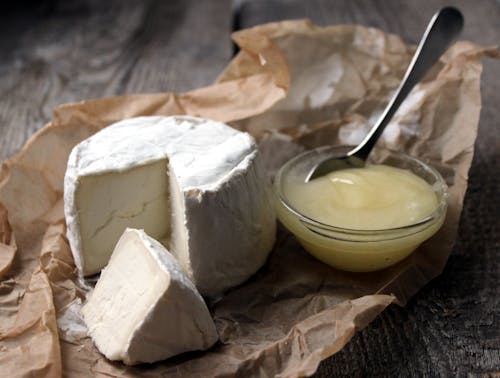 Moreover, the remaining liquid portion is whey. After draining the liquid part, we need to divide the solidified part into pieces under high pressure. The presence of moisture determines the classification of cheese. It includes semi-hard cheese, soft cheese, and hard cheese. There are varieties of cheese types available that vary in fat, protein, calcium, and calorie contents.
How Do We Get Butter?
On the other hand, we get butter from the whole milk cream. Vigorous churning of fermented or fresh milk separate the cream and fat. The leftover liquid is drained completely. Lactic acid bacteria help in processing the cream. This bacteria adds sour taste by converting the citric acid into acetyl. Thus, butter gets the flavor and aroma. After the pasteurization of butter, we can keep it in the refrigerator for months. The product gets its stability from the saturated fatty acids.
Butter And Cheese – Which One Is Better?
Finally, from all the aspects, we can say cheese is the real winner. It is a high source of protein, vitamins, and minerals that help to keep our teeth and bones stronger. Moreover, nutrients like biotin and zinc present are cheese help in repairing and development of the body tissues. At the same time, it keeps our skin and hair as well as nails completely healthy. If you are planning to lose a few inches, replace butter with the yummy cheese.